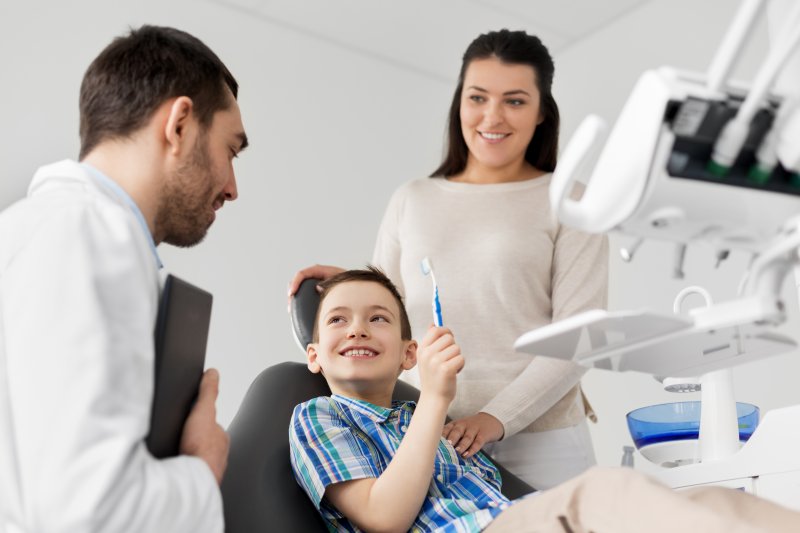 If you're not careful, it's easy for your household's dental appointments to pile up. After all, each person will have different needs at different times. As a result, you, your spouse, and your kids may see multiple dentists at separate practices. It doesn't sound great, does it? Fortunately, there's an alternative available: the family dentist. With their help, you'll manage everyone's dental needs more easily than ever. To learn more, read over these four benefits of seeing a qualified family dentist.
#1: Reduce Dental Anxiety
As you may know, dental anxiety is a serious issue for many patients. In fact, 50-80% of U.S. adults have some degree of it. Severe cases can even lead people to delay or avoid needed treatment. If you or a family member have this condition, a family dentist can help overcome it.
For example, consider your kids. Children can develop dental anxiety early, but that changes if they know the dentist well. If your little ones see that you visit the same one for treatment, they'll feel more confident. From there, they'll be comfortable with dentists for the rest of their lives.
#2: Have More Convenient Care
Another advantage of a family dentist is that they offer more centralized care. More specifically, they let you make one appointment for several people or the whole household.
You see, family dentists are trained to see patients of all ages. To that end, they offer a comprehensive range of treatments suitable for children, adults, and seniors. They wouldn't require you to send your kids to one practice while you go to another. Instead, everyone could go to the same location — no more inconvenient scheduling! That way, your whole family's dental needs can be met in one go.
#3: Keep Your Dental History in One Place
A family dentist also has the advantage of knowing everyone's dental history. If you had past dental diseases, surgeries, allergies, or sensitivities, these would be on record. Consequently, they'll know suitable treatments for issues arising from a previous condition.
Knowing your history will make it easier to find problems that run in the family too. Some issues may be genetic, and it helps to have the same dentist for the whole family.
When a family finds dental visits difficult, their oral health is at greater risk. That said, find a family dental practice near you to experience benefits like those above!
About the Practice
Ross Avenue Family Dental is based in Dallas, TX, providing its patients with excellent and relaxing dental care for all ages. As such, its services span preventive, cosmetic, and restorative dentistry, including emergency treatments. The staff makes these services affordable thanks to accepting PPO dental insurance plans, Medicaid, and CHIP. For more information or to book an appointment, you can reach them at their website or by phone at (469)-210-7223.