Veneers – Dallas, TX
Correct the Cosmetic Flaws in Your Smile
Do you have cracked, chipped, or stained teeth that are taking away from the overall appearance of your smile? Fortunately, you no longer have the feel the need to hide your teeth when the camera comes out. At Ross Avenue Family Dental, Dr. Xinxing Liu offers customized veneers to correct the cosmetic imperfections that litter your smile. To learn more about how veneers in Dallas can help you achieve the smile of your dreams, contact our office to schedule an initial consultation.
Why Choose Ross Avenue Family Dental for Veneers?
Can Last 15+ Years with Proper Maintenance
Customized for Natural Appearance
Saturday Appointments Available
What are Dental Veneers?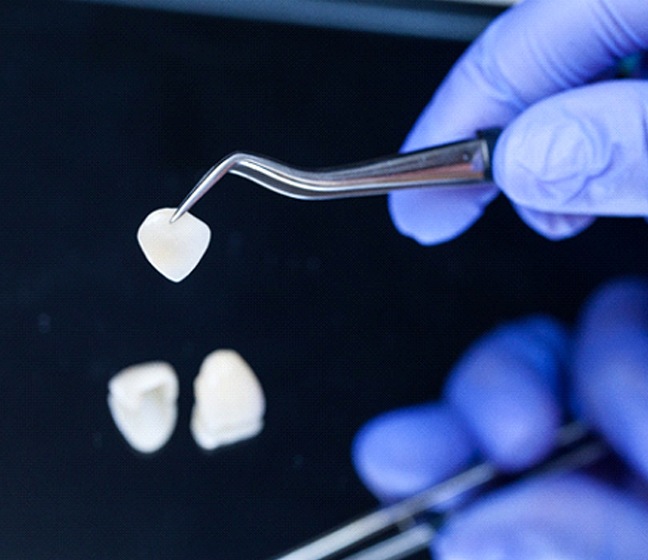 Veneers are a common, effective dental treatment that involves adhering thin shells of tooth-colored porcelain to the front facing surface of the teeth in order to mask cosmetic imperfections. The durable, natural looking materials used can conceal a single damaged tooth or a mouthful of cosmetic flaws. Dental veneers are generally used to address teeth that are chipped, gapped, misaligned, misshapen, discolored, undersized, and more!
The Process of Getting Veneers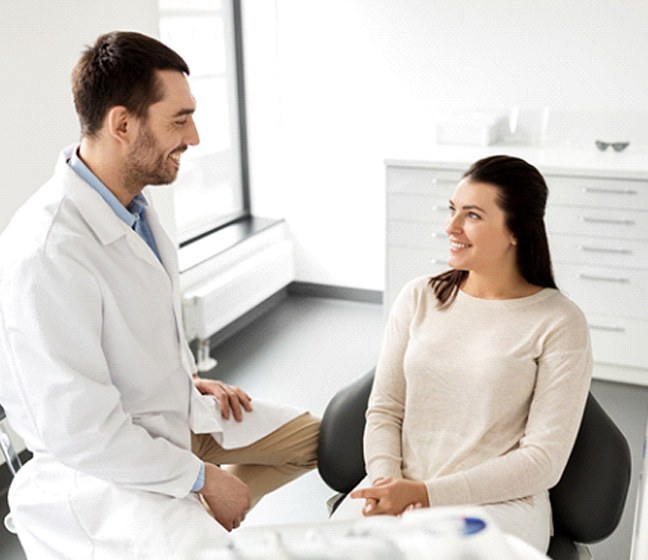 Dental veneers can be placed in as little as two appointments. During your first visit, we will carefully examine your smile to ensure that it is healthy enough to support veneers. Once this is concluded, we'll prepare your teeth by removing a small amount of protective enamel to make room for your veneers. Impression will then be taken of the teeth to be sent to the dental laboratory where your final veneers will be made.
In the meantime, you will be given a temporary set to both protect your teeth and help you get used to what your veneers will feel like. Once your final restorations are complete, you will be able to return to the practice for the placement.
The Benefits of Veneers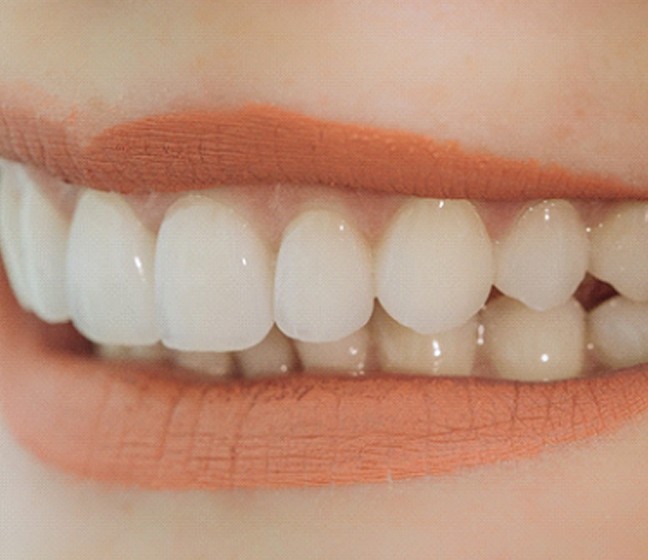 Veneers have become increasingly popular because of their numerous benefits. Here are some of the most prominent:
Natural-Looking: The porcelain used to craft the veneers appears just like natural tooth enamel.
Straightforward Treatment: Getting veneers typically requires just two visits to the dental office.
Whiter Smile: Dental veneers are more resistant that natural teeth when it comes to staining. You will not longer need to worry about discoloration thanks to coffee, red wine, and other dark-colored foods and beverages.
Long-Lasting: Veneers can last for longer than 15 years with maintained properly.
Understanding the Cost of Veneers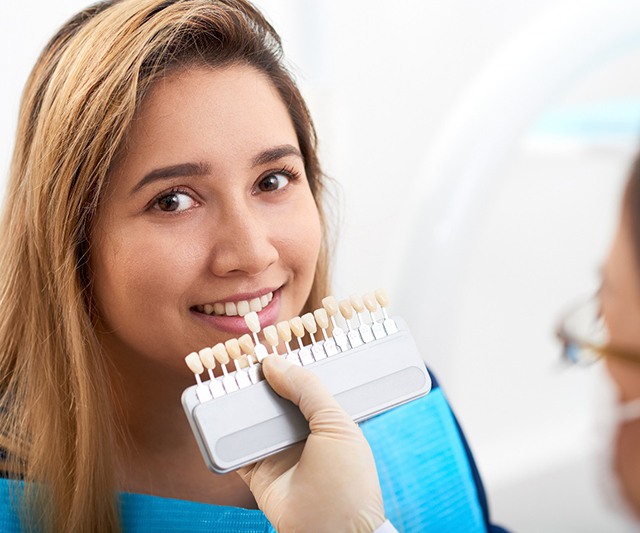 In cosmetic dentistry, you truly get what you pay for, so it's always a good idea to think of it as a long-term investment rather than try to save on cheap treatment. This is especially the case if you want to ensure the most natural-looking smile possible. Just keep in mind that there are many cosmetic treatments that can help you achieve the smile you're looking for, including services that can help you save.
Which Cosmetic Treatment is Right for Me?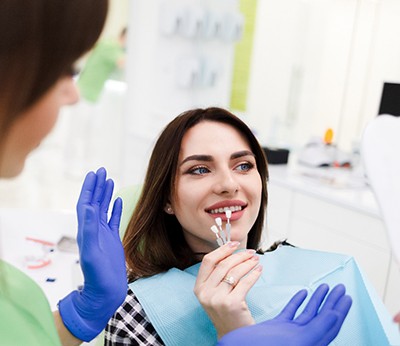 Different cosmetic treatments hold varying cost points and approaches to resolving smile imperfections. Some of the most common treatment options include the following:
Cosmetic Dental Bonding – Considered one of the cheapest options in cosmetic dentistry, cosmetic dental bonding is designed to hide stains that whitening cannot as well as minor chips, cracks, and gaps in between teeth. However, it will not last forever. It's common for touch-ups to be needed every few years or so depending on your day-to-day habits.
Metal-Free Dental Crowns – While crowns are often used to prevent large cracks in teeth from getting worse, they can be made from porcelain to ensure the best looking esthetics possible. If your tooth has become misshaped or sharp as a result of a break, they are an ideal solution. However, they are not the best for teeth visible in your smile, making them less versatile in cosmetic applications.
Veneers – A veneer is ultra-thin in nature and capable of hiding several imperfections at a time, especially for teeth that are visible when you smile. They can be quite expensive, but considering their ability to hide virtually all imperfections with a single treatment, you are far more likely to save on other cosmetic services along the way.
How to Make Veneers Affordable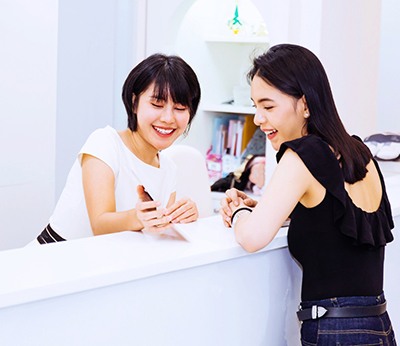 Veneers are not covered by dental insurance simply because they are rarely (if ever) considered medically necessary. However, there are other financing options available to you if needed to make veneers more affordable. Some of the most common solutions we recommend include CareCredit and Sunbit. With CareCredit, you can pay for dental treatments in monthly installments with little to no interest attached! Alternatively, Sunbit makes it easier to divide your costs into a payment plan and approves roughly 90 percent of applicants.
The best way to determine which cosmetic treatment you should choose and whether that includes veneers or not is by setting up a consultation with Dr. Liu. She'll work directly with our front desk to create a treatment plan that fits your budget and helps you achieve your smile goals.