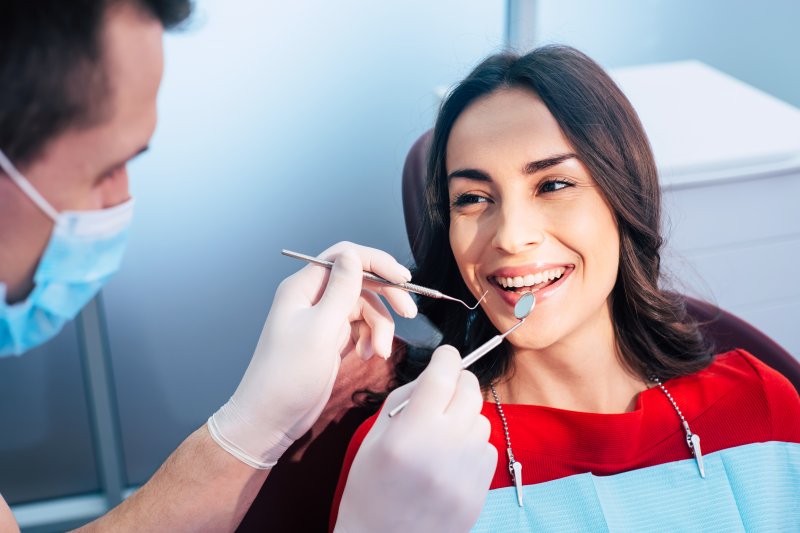 It's officially October, and do you know what that means? Halloween will be here before you know it! During this time of the year, part of the fun is finding amusement in the things that frighten us. But there's one thing that deeply terrifies people year-round – root canals. In fact, more people are afraid of getting a root canal than speaking in public, spiders, and being trapped in an elevator. Luckily, you can easily avoid needing one by using your preventive coverage. Read on to learn more.
Why Is Preventive Dentistry Important?
A healthy smile requires more than just brushing and flossing. You must also see your dentist regularly for preventive dentistry services to ensure your oral health is in optimal condition. There are nooks and crannies in your mouth that can't be cleaned with a toothbrush alone, meaning they're at risk of plaque and bacteria buildup. Luckily, your dentist uses special tools to thoroughly clean your mouth and lower your chances of dental problems. Without bi-annual dental visits, you're at risk of needing more complex and costly procedures down the line (i.e., crowns, root canals, extraction).
Preventive dentistry services usually include:
Regular oral examinations (every six months)
Professional teeth cleanings
Routine X-rays
Does Dental Insurance Cover Preventive Dentistry Services?
Unfortunately, some people avoid seeing their dentist because they don't want to break the bank. The good news is with preventive dental insurance coverage you don't have to worry about hurting your wallet. Since preventive dentistry plays an essential role in oral health, most dental plans will cover it entirely. It's worth noting that every policy is unique, meaning the amount of coverage offered will vary from person to person. However, the average dental insurance does cover two teeth cleanings and oral exams per year (one every six months) and routine X-rays. Still, you must review the details of your specific plan to understand your limits and frequencies for preventive care.
Tips to Avoid Needing a Root Canal
Aside from using your preventive coverage, here are some steps you can take to avoid needing a root canal:
Practice good oral hygiene. Brushing and flossing every day is crucial for maintaining a healthy smile.
Be careful with hard foods. If you bite down on hard food like a lollipop or jawbreaker, it could damage your tooth and cause cracks that allow bacteria to enter your root system.
Wear a mouthguard. Prevent oral injuries by protecting your teeth while playing sports.
Don't ignore tooth pain. Any type of pain indicates something is wrong in your mouth. Get it checked out as soon as possible to avoid needing more complex treatments, like a root canal.
See your dentist every six months. They can spot a cracked tooth early and treat it before it needs a root canal.
All in all, using your preventive coverage and following the tips outlined above can help you avoid getting a root canal. Plus, they'll help you enjoy a happy, healthy smile for years to come!
About the Practice
At Ross Avenue Family Dental, we provide exceptional dental care while simultaneously delivering a relaxing experience. Our team will go above and beyond to help you obtain the beautiful, healthy smile you deserve. If you need help understanding your dental insurance coverage, we're more than happy to help. Visit our website or call (469) 210-7223 to speak to a member of our team.